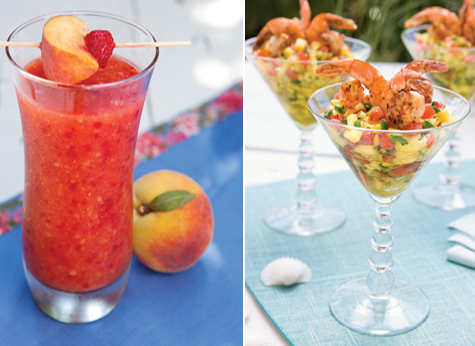 Escape to the tropics this weekend by throwing a tropical bash in your own backyard.  All you need to create a party atmosphere is delicious tropical inspired  food and cocktails, plus a group of great friends to share in the fun with!
Setting the Scene
If you have a pool use this as your focal point by adding floating candles to it. If you don't have pool, set up long tables with bowls of floating candles.

Decorate trees and plants with decorative string lights, this will add ambiance to the party has the evening dusk sets in.

Use white linens on your tables and tall hurricanes filled with sand and pillar candles for your centerpieces.  Use white dishes to compliment this fresh tropical tablescape.

Set up your iPod to play reggae and tropical inspired music to keep everyone grooving and moving throughout the evening.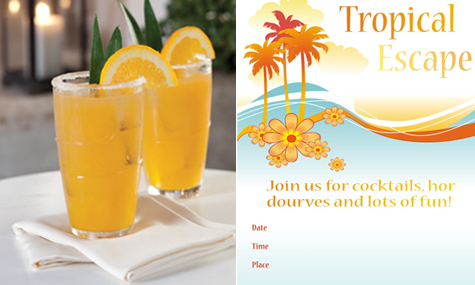 The Menu
Here's a few yummy recipes that we found over at Southern Lady Magazine for your menu to get you started.
Peach Melba Daiquiri
Makes about 6 cups
Ingredients
1 (20-ounce) bag frozen sliced peaches
1 cup frozen raspberries
1 (11.3-ounce) can peach nectar*
1 1/4 cups light rum
1/2 cup sugar
1/4 cup peach schnapps
2 tablespoons fresh lemon juice
Garnish: peach slices, raspberries
Preparation
1. In the container of a blender, combine peaches, raspberries, peach nectar, rum, sugar, peach schnapps, and lemon juice, process until blended. Serve immediately. Garnish with peach slices and raspberries, if desired.
Tropical Sangria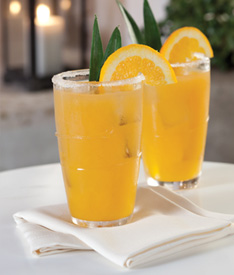 Makes 8 servings
Ingredients
1 (750-milliliter) bottle Chardonnay
1 (12-ounce) can frozen white grape juice concentrate, thawed
2 cups passion fruit juice
1 1/4 cups fresh orange juice, divided
1 cup pineapple juice
1/4 cup sugar
Garnish: orange slices, pineapple leaves
Preparation
1. In a large pitcher, combine Chardonnay, grape juice concentrate, passion fruit juice, 1 cup orange juice, and pineapple juice.
2. Place remaining 1/4 cup orange juice in a shallow dish. Place sugar in a separate shallow dish. Dip rims of chilled glasses in orange juice, and then dip in sugar. Serve Tropical Sangria over ice in prepared glasses. Garnish with orange slices and pineapple leaves, if desired.
Caribbean Shrimp Cocktail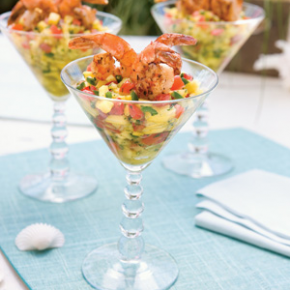 Makes 8 servings
Ingredients
2 cups finely chopped mango (about 2 medium)
2 cups finely chopped fresh pineapple
1 1/2 cups seeded and chopped Roma tomatoes (about 6 medium)
2 jalapeño peppers, seeded and minced
2 tablespoons chopped fresh cilantro
1 teaspoon lime zest
2 tablespoons fresh lime juice, divided
1/2 teaspoon salt
1/4 teaspoon ground black pepper
24 large fresh shrimp, peeled and deveined (tails on)
2 tablespoons Caribbean jerk seasoning
1/4 cup butter
Preparation
1. In a medium bowl, combine mango, pineapple, tomatoes, jalapeño, cilantro, lime zest, 1 tablespoon lime juice, salt, and pepper; cover, and refrigerate.
2. In a medium bowl, combine shrimp and jerk seasoning; toss gently to coat.
3. In a large skillet, heat butter over medium-high heat until butter is melted. Add shrimp and remaining 1 tablespoon lime juice; cook shrimp for 1 to 2 minutes on each side, or until shrimp are firm and pink.
Tropical Summer Escape Invite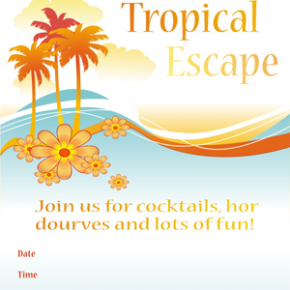 Also, no need to worry about the invitation for your tropical shindig, we've got that covered as well. Click here to get your downloadable invitations your tropical escape summer party.
Enjoy the party!
celebrate life in style…