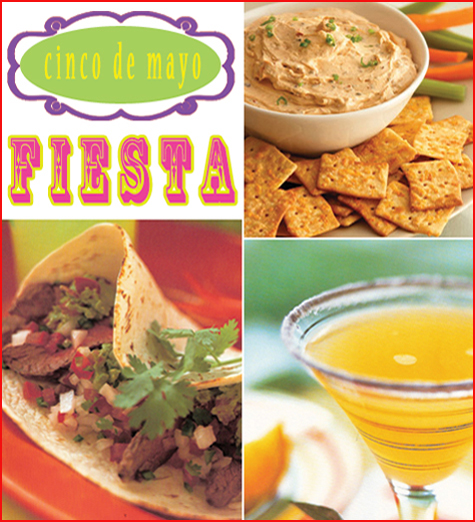 We're serving up some fabulous entertaining ideas for your Cinco de Mayo Fiesta. To help get your party started we have some awesome recipes that are true fiesta  favorites and free DIY  party printables –  drink flags and party circles to decorate with.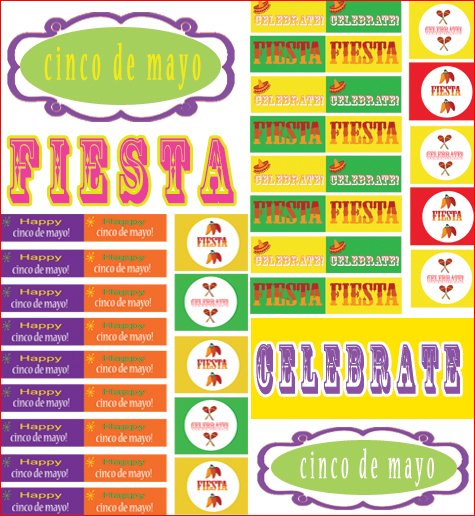 For the menu about some Spicy Chipotle Dip, some Fajitas Borrachas (Drunken Fajitas) and for your signature Cinco de Mayo cocktail we're going with a Tijuana Taxi.
To download the printables go here and for the recipes
Tijuana Taxi
If you love the Sidecar cocktail you're going to love the Tijuana Taxi. Use Tequila in place of the brandy and add fresh sweet tangerine juice or orange juice.
Makes one cocktail
Ingredients
6 ice cubes
2 oz reposado tequila
2 oz fresh tangerine juice
1 oz sweet and sour mix
1 oz Cointreau
Preparation
Chill cocktail glass
Add the ice to a cocktail shaker, then add the tequila, tangerine juice, sweet and sour mix and Cointreau. Shake to blend and chill.
Pour mixture into chilled cocktails glass. Garnish the rim of the glass the tangerine wheel and serve.
Fajitas Borrachas
The key to getting great tasting fajitas is in the marinade and this marinade is a hit, with tequila, lime juice and pico de gallo sauce you can't go wrong!
Makes 8 – 10
Ingredients
Marinade
16 oz fresh pico de gallo (store brought)
¼ cup sliver tequila
¼ cup fresh lime juice
¼ cup extra-virgin olive oil
6 garlic cloves minced
1 tsp salt
Fajita Meat
2 ½ pound skirt steak
2 lbs boneless chicken breast (trimmed of fat and tissue)
Thirty 8-inch flour tortillas
Preparation
To make the marinade: Place all ingredients in a food processer and puree. Divide into 2 large shallow casserole dishes, place the steak in one, cover; and the chicken in the other, cover; Let stand for 1 hour, turning both after 30min.
Grill or broil the steak 4 min on each side, turning once until medium-rare. Grill or broil the chicken, about 2 minutes on each side turning once, until cooked through. Transfer steak and chicken to craving platter; cover with aluminum foil and let rest for 10 minutes.
Heat tortillas, wrapped in foil in a 350°F oven, turning once for 10 minutes. Slice steak and chicken across the grain into ¼ inch strips. Serve immediately with hot tortillas.
Spicy Chipotle Dip
Here's a zesty dip to whip up as an easy appetizer, it's packed with smoky chipotle flavor. YUM!
Makes 16 Servings
Ingredients
2 containers (8 ounces each) reduced fat chive and onion cream cheese, softened
1/4 cup chipotle chile in adobe sauce
3 tbsp. lemon juice or lime juice
Pepperidge Farm® Baked Naturals® Cheese Crisps- Four Cheese Medley
Preparation
Place the cream cheese, chiles and lemon juice into a food processor. Cover and process until the mixture is smooth. Serve with the cheese crisps for dipping.
Recipe source: Spicy Chipotle Dip – Pepperidge Farm
Tijuana Taxi and Fajitas Borrachas – Viva Margarita
Enjoy!
celebrate life in style…