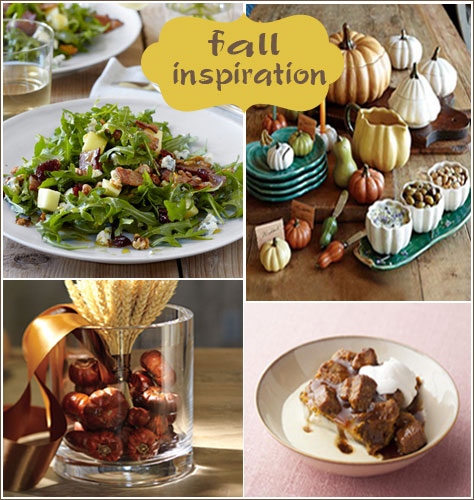 We're taking a sneak peek today into all things fall. Fall is the perfect time to take advantage of the season by celebrating everything that the season has to offer by serving up delicious hearty dishes, setting a the perfect table and decorating with accents from the season.
1. The Cape Cod Chopped Salad is a refreshing start to a fall feast. The flavor combination's are sure to please: sweet apples, tart cranberries, salty bacon, tangy blue cheese, and spicy arugula.
2. Williams- Sonoma beautiful Heirloom Pumpkin Serveware Collection. Pumpkins have always symbolized autumn and what a perfect way to set an autumn table!
3. The Dried Pumpino Vase Filler from Pottery Barn is a seasonal favorite this year of  pumpkin pods from the harvest that will be perfect for your fall and holiday displays.
4. Pumpkin Bread Pudding with Spicy Caramel Apple Sauce and Vanilla Bean Creme Anglaise is a scrumptious fall treat. Seriously, you can't go wrong with pumpkin, caramel apple sauce and vanilla cream you can't go wrong.
Enjoy and let's get ready for fall.
celebrate life in style…