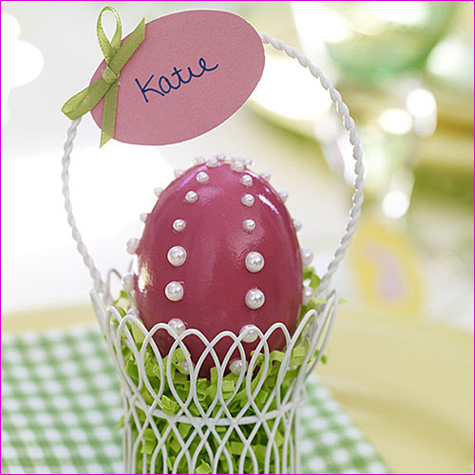 Easter is on Sunday April 4th so here are some beautiful ideas of how you can decorate your eggs this year. I think we all know that when it comes to decorating for Easter, it's all about embellishing the egg!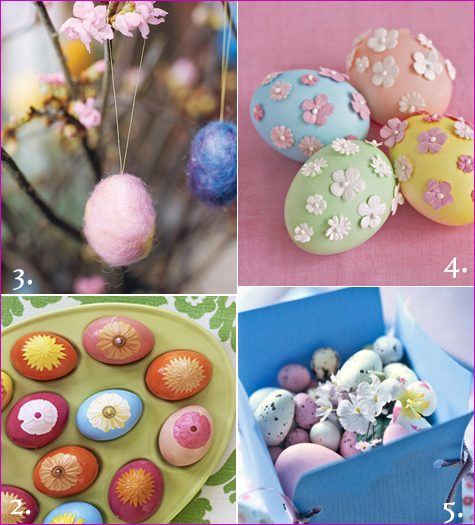 1. For a totally jeweled and dazzling egg, create beautiful Bejeweled Eggs.  Create different sparkling eggs for your loved ones. Easy to make and you can use different size and styles of jewels.
2. Welcome spring and Easter with an pretty bunch of Flowered Eggs, these will lighten up your Easter table.
3.  Soft as a baby chick, the Felted Easter Egg Ornaments are felted wool egg ornaments that make fetching embellishments for a centerpiece or Easter tree fashioned from a cherry blossom branch.
4. Elegant Eggs,  how gorgeous are these pastel beauties!After coloring the egg, attach fabric scrapbooking flowers..
5. Linen Box with Chocolate Eggs:  Fill a pretty linen or paper-covered box with artisanal chocolate eggs, and to finish, tuck a small silk blossom in among the treats. Beautiful and delish!
Wow, these are all so pretty, which will make first and which will be my favorite I wonder?
Enjoy!
celebrate life in style…