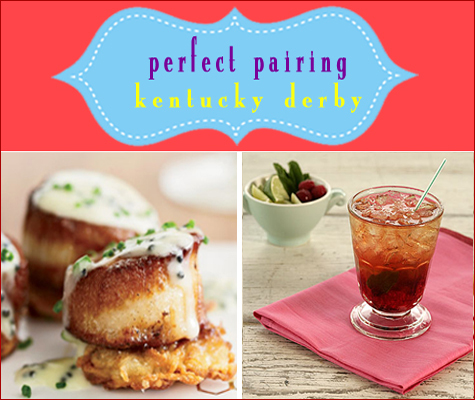 Our drink of the week is the Bourbon Smash, in honor of the Kentucky Derby on Saturday. Crushed ice and bourbon combined with the sweetness of raspberries and the fresh flavor of mint paired with Scallops with Potato Pancakes and Caviar Sauce makes this a great combination for your Kentucky Derby cocktail hour. Enjoy the race and have a fabulous weekend!
Here are the recipes.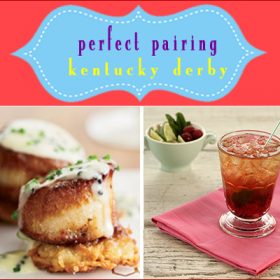 Ingredients
6 fresh or frozen raspberries, thawed

1 tablespoon sugar

1 small lime wedge

3 to 4 mint or basil leaves

Crushed ice

1/4 cup bourbon
Instructions
Place raspberries, sugar, lime wedge, and mint or basil leaves in a chilled 10-oz. tumbler.
Gently press raspberry mixture against sides of cup with a cocktail muddler or back of a spoon to release flavors.
Fill glass with crushed ice and bourbon; stir well.
Serve immediately with a cocktail straw.
Ingredients
*Pancakes*

1 pound baking potatoes, peeled

1 large egg, lightly beaten

1/4 cup matzo meal

1/4 cup grated onion

Salt

Vegetable oil, for frying

*Scallops and Caviar Sauce*

1 1/2 cups Champagne

9 black peppercorns

3 thyme sprigs

1 bay leaf

1 large shallot, thinly sliced

1 teaspoon fresh lemon juice

1 1/2 tablespoons crème fraîche

1 1/2 sticks (6 ounces) cold unsalted butter, cut into tablespoons

1 ounce caviar

Salt

Vegetable oil, for frying

20 medium sea scallops (1 pound)

2 tablespoons minced chives
Instructions
Coarsely shred the potatoes and squeeze out any excess liquid. Transfer to a large bowl and stir in the egg, matzo meal, onion and a large pinch of salt. Shape the mixture into 20 scallop-size cakes, about 1/2 inch thick; press the cakes to compress them.
In a large skillet, heat 1/4 inch of vegetable oil until shimmering. Working in batches, fry the pancakes over moderately high heat until browned and crisp, about 3 minutes per side. Lower the heat if the pancakes brown too quickly and add more oil if necessary. Transfer the pancakes to a baking sheet and sprinkle with salt.
Preheat the oven to 325 degrees. In a small saucepan, combine the Champagne with the peppercorns, thyme sprigs, bay leaf, shallot and lemon juice and boil over high heat until reduced to 1 tablespoon, about 15 minutes. Strain the sauce into another small saucepan. Stir in the creme fraiche and bring to a simmer over moderate heat. Remove from the heat and stir in the softened butter, 1 tablespoon at a time. Stir in the caviar and season lightly with salt. Cover the sauce and keep it warm.
Recipe Source: Bourbon Smash – Southern Living and for the  Scallops with Potato Pancakes and Caviar Sauce  – Food & Wine
celebrate life in style…