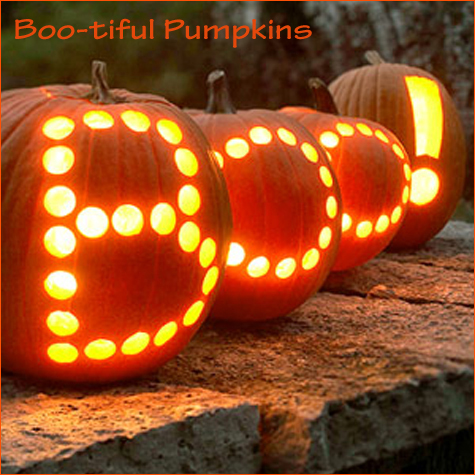 A great way to decorate indoors and outdoors for Halloween is to dress up your pumpkins with spooky and fun decorations and over at BHG they have plenty of cool decorating ideas along with templates you can download. The Big  Boo-tiful Pumpkins may look like it took hours to design but with the help of a plunger-type apple corer it's easy and simple to create an eerie illuminated glow that BOO, your guest.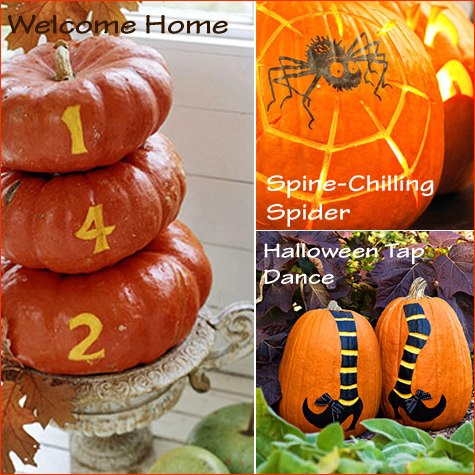 Give your front porch a spooky feel with the Welcome Home pumpkins. To create the stacked-pumpkin address marker,  pick the correct number of pumpkins with flat shapes and make sure the pumpkins sit well on top on each other. Use  stencils and paint to add a number to the front of each pumpkin. Very simple and easy. You can use this a Fall decoration as well.
The painted sinister Spine-Chilling Spider dangling on a luminous web warns visitors to beware. The lines of the web are carved just deep enough to let the glow of the candle shine through the pumpkin walls. This is SOOO SPOOKY CUTE!
The Halloween Tap Dance is one of my fav's and does this witch have rhythm or what! Tall pumpkins set the stage for this soft-shoe scenario and with some black paint and shallow craving your pumpkins will be doing the Monster Mash…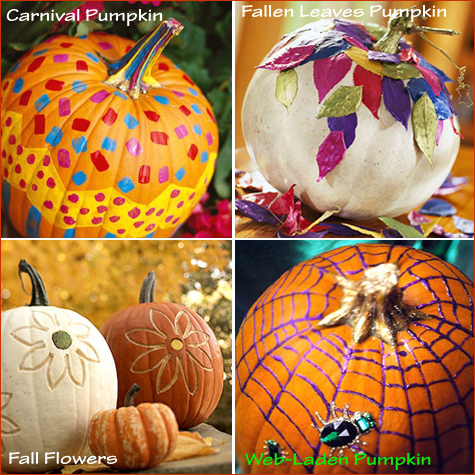 The kids will love decorating the Carnival Pumpkin, use bright paint colors and their fingers to dress up the playful pumpkin.
Have the kids to gather up leaves to help create Fallen Leaves Pumpkin. You can enhance the colors of autumn by painting gathered leaves with bright metallic paints, then attaching them to a stunning white pumpkin.
When light falls on the Web-Laden Pumpkin the glitter paint and faceted gems will SPARKLE with vibrant color. The web effect to create for the pumpkin gem is simple to achieve using an inexpensive craft pen.
If you want a beautiful floral design then the pretty Fall Flowers pumpkins are perfect for you. By using a clay-loop tool you to design a cool look that lasts longer than conventional carved pumpkins. The design uses a different colored plug as the base, and etching for the petals. You can use these pumpkins are part of your Thanksgiving decorations as well.
Save