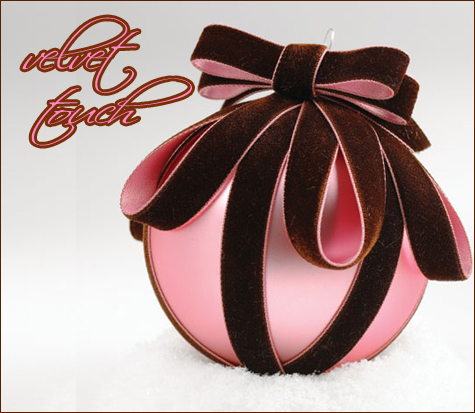 I couldn't wait to share these beautiful handmade ornaments that I found over at DIY Ideas with you.  I really just love them, they're stylish and easy to make.  So here's what I am thinking, why not decorate the tree this year with some of these beautiful DIY ornaments or give some away these will make great handmade gifts! Don't you love this one, it's the Velvet Touch, very chic and very classy.
For the how on how to make them

1. Apply a line of hot glue to the ornament, starting at the top and going all the way around the ball.
2. Adhere a piece of ribbon to the glue.
3. Repeat so you have six evenly spaced ribbon lines running down the ball.
4. Glue ribbon loops to the top of the ball so they drape over the ball.
5. For the topper, fold over ribbon three times, going back and forth, so it looks as if you laid three bows on top of each other.
6. Make a final loop around center of layered ribbon, and tie or glue to the ball.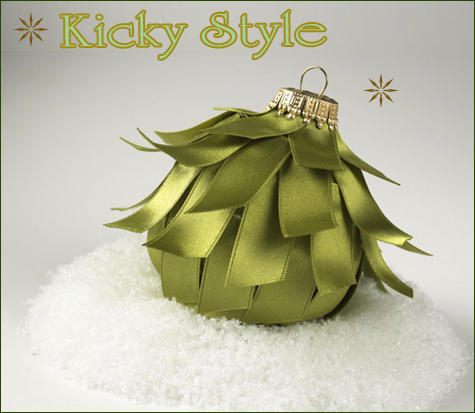 This is the perfect way to add to flair and style to some old cracked ornaments that are destined for the trash.
1. Cut 5/8-inch ribbon into 1 1/2- and 2-inch-long strips (for an average-size ornament).
2. Glue the strips to the ball, starting at the bottom with three rows of shorter strips and finishing the middle and top with longer strips.
This is a creative use of ribbon, flapper-style!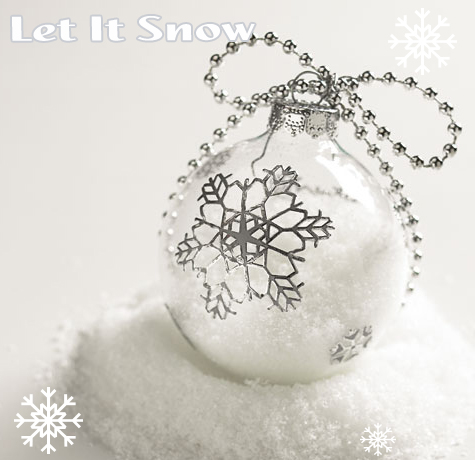 If want to see snow on your tree for Christmas and have some some clear ornaments,  here's a great way to add some sparkle and shine to them.
1. First remove the ornament's metal top and fill the ornament about one-half to two-thirds full with artificial snow (Glitter, Epsom salt, or sugar would also work).Put top back on.
2 Adhere silvery snowflake decals designed for scrap booking to the ornament.
3. Loop a string of crafts-store beads (office-supply ball chain can also be used) through the metal top; tie the beads into a bow.
And there you have it, a very cute and sparkly stylish ornament.
Enjoy!
celebrate life in style…
Save