With summer quickly approaching the invites for weekend bbq's and picnics will begin to pour in and with every gathering you attend you will need to bring along a fabulous host/hostess gift.  No worries for you, we have the recipes for two great summer gifts: a yummy homemade  bbq rub that's perfect for grilling chicken and pork  and a sauce that is finger licking good and great for grilling beef, pork  and chicken.  Both are easy to make  and these are gifts that not only your host will enjoy, but everyone at the party will love them as well!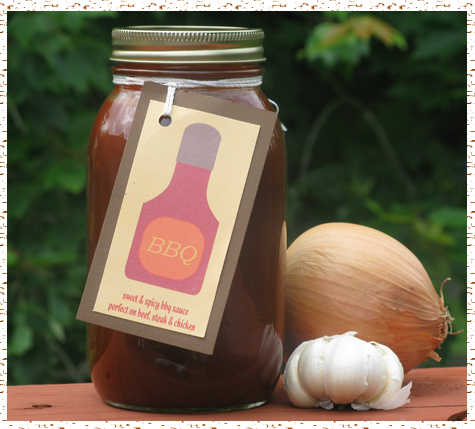 The rub and sauce both fit perfectly in 1 quart mason jars (you can pick these up at any craft store) and with a printable gift tag, you're all set to give a gift that is homemade with love!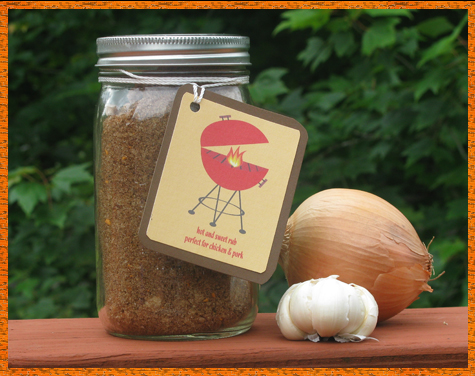 So there you have it, two quick and a simple hostess gifts that will make gift giving easier for the  summer party season. The download for the free printable shown below can be found here at the posh paper shoppe.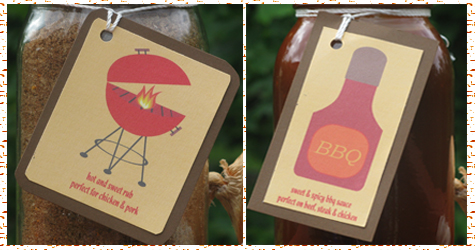 And for the recipes
Homemade Hot and Sweet Rub
Great for chicken and pork.
Makes 1 quart of sauce
Ingredients
2 cups Brown Sugar
1 cup Chili Powder
2 tbsp Salt
2 tbsp Black Pepper
4 tsp Garlic Powder
4 tsp Onion Powder
Preparation
Simply mix the ingredients together in a bowl and transfer to a quart mason jar.
Homemade Sweet and Spicy BBQ Sauce
Makes 1 quart
Ingredients
2 cups packed brown sugar
2 cups ketchup
1 cup water
1 cup cider vinegar
1 cup finely chopped onion
1 (8 ounce) can tomato sauce
1 cup corn syrup
1 cup molasses
1 (6 ounce) can tomato paste
2 tablespoons Worcestershire sauce
1 tablespoon garlic pepper blend
1 tablespoon liquid smoke flavoring (optional)
1 tablespoon prepared mustard
1 teaspoon onion salt
1 teaspoon celery salt
Preparation
In a large saucepan, combine all ingredients. Bring to a boil. Reduce heat; simmer, uncovered, for 15 minutes or until the flavors are blended. Remove from the heat; cool. Once sauce is completely cool transfer to mason jar.
Enjoy the inspiration!
celebrate life in style…