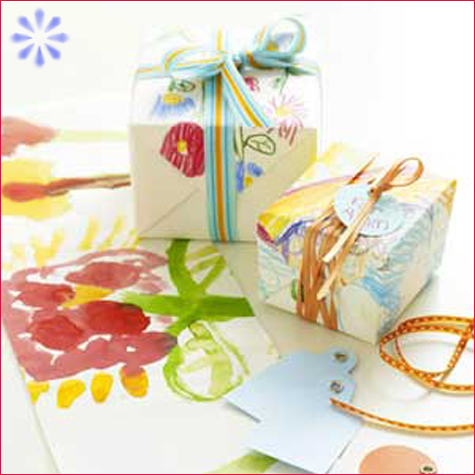 Happy Friday! Well, we have some DIY inspiration for you today in the form of stylish and crafty gift wrap. These DIY projects are very easy to make and lots of fun as well. So next time you need to wrap a gift, don't head out to the store and buy paper instead just look around at what you already have. Pull out the colored pencils, ribbons, bows, craft boxes and scissors, grab the kids and create some beautiful handmade gift wrap.
Above is some pretty crafty decorated gift wrap paper. Easy to make –  simply decorate plain white gift wrap. Pull out watercolor paints, crayons, and markers for you or the kids to use. Let paint and markers dry before wrapping. Tie gifts with pretty ribbon and customized tags.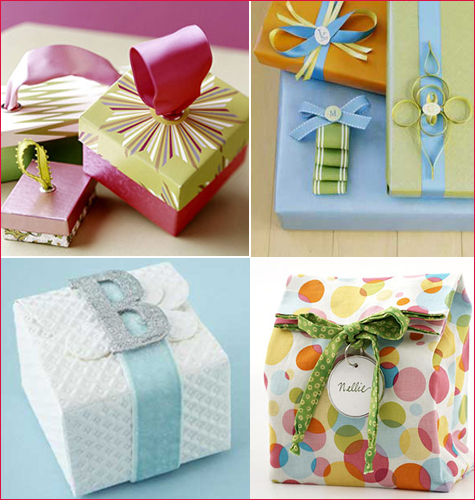 (Starting at the top on the left check out the crafty DIY gift wrap)
To make the ribbon-pull gift box lids start with easy-pull gift box lids, add a grommet with a ribbon loop. Remove the box lid, center the grommet on the lid, and trace around it with a pencil. Carefully cut around the mark with a crafts knife. Pop the grommet into place. Tie two ends of a short piece of ribbon together. Slide the ribbon through the grommet from the underside of the lid. Pull taut.
Want to make one-of-a-kind gift tags using ribbon? The frilly ribbon embellishments will be perfect! Cut and loop lengths of ribbon; adhere to packages with fabric glue. Attach monogrammed tags fashioned with crafts punches.
Personalize wrapped gifts with a decorated chipboard monogram letter. To create monogram gifts paint or glitter the letter to coordinate with wrapping paper and bow.
I love this one, an easy-to-sew reusable gift bag. Use fabric of any pattern to create a personalized gift bag. It's even eco-friendly because the gift recipient can reuse it again and again.
Enjoy and happy crafting!
celebrate life in style…