Okay, how cute are these! These little warm and fuzzy fabric pumpkins will make great additions to your fall and Halloween decorating collections. This is also a craft that the kids can help make and have fun with.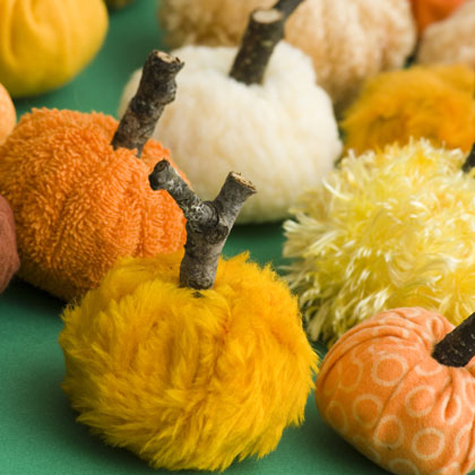 Total time needed to create these cuties is between 1-2 hours. Also, mixing different textures and colors will create a mismatched patch of them.
Materials Needed
Fake fur, fleece, or other fabric
Scissors
Needle
Dental floss
Plastic shopping bag
Short stick
 Instructions
1. Squash Softies – Step 1 For each pumpkin, cut a circle from a piece of fake fur, fleece, or other fabric (ours were roughly 8 inches in diameter).
2. Thread a needle with dental floss and make a knot several inches from the end (you'll use this tail to tie the floss together). Make wide stitches around the circle as shown, about a half-inch from the outer edge. Pull the floss to gather the edges, and stuff the resulting pouch with a plastic shopping bag.
3. Place a short stick into the hole for a stem, then pull and knot the floss so that the fabric is cinched around the stick.
Enjoy & have fun creating these!
celebrate life in style…