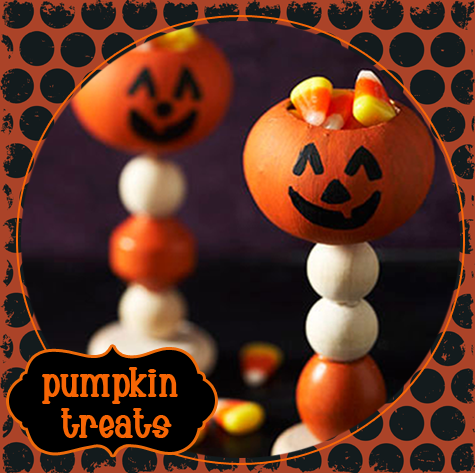 We had to share this  adorable and simple Halloween craft with you, Pumpkin Treat Holders. What a cute and clever way to display your Halloween treats at your upcoming party.
This one is easy to make and you can find all your supplies at your local arts and crafts store.
Here's the how on making them.
Supplies
Stemmed bell cup – (available at crafts stores)
Black Permanent Marker
Large Wooden Beads
Acrylic Paint
Glue Gun
Instructions
1.  Paint a stemmed bell cup (available at crafts stores) orange; let dry.
2.  Use a permanent marker to draw a jack-o'-lantern face on the painted bell cup.
3.  Stack large wooden beads to make a pedestal, ending with a round flat bead for the base. Paint beads as desired; let dry.
4.  To adhere the beads, dot around the edges of the holes with glue (avoid getting glue in the holes). Press the beads together, aligning the holes. Thread the stem of the bell cup through the beads. Squeeze glue into the top bead hole; let dry.
5.  Flip over the cup and fill the bottom bead hole with glue; let dry.
Enjoy!
celebrate life in style…