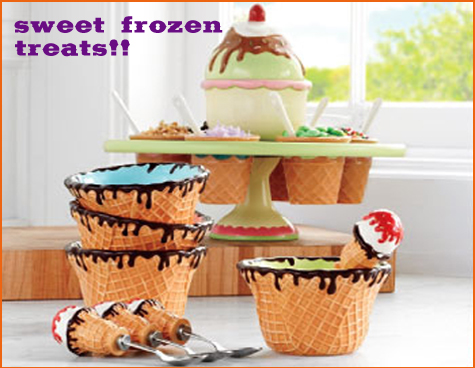 On a hot summer day, who wouldn't love to have some tasty ice cream treats? Well Sur La Table has fun and delightful accessories and recipes that will make your ICE CREAM SOCIAL the biggest hit on the block.
The Waffle Cone Spoons and Waffle Cone Bowls make ice cream even more tempting. Ice cream cones top the handles of the spoons, HOW CUTE! The spoons come in a set of 4 for $ 20.
You can get the set of 4 Waffle Cone Bowls – (can we say how YUM these look)  in pink , blue, yellow or green for $20. Both the spoons and bowls are dishwasher safe.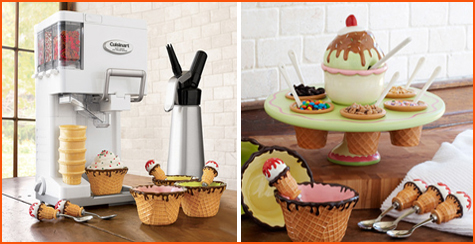 The Ice Cream Topping Carousel includes a Lazy Susan, which makes it easy to get all the toppings! The Carousel is $39 and has six 3-oz. topping dishes, 7″ ladle, six 5″ spoons and 8-oz. hot fudge bowl with lid. And last but definitely not least, it's one of the most needed guest at the party, the Cuisinart Mix It In Soft-Serve Ice Cream Maker. The  ice cream maker is $99.95 and makes up to 1½ quarts of soft ice cream, yogurt, sorbet or sherbet in as little as 20 minutes, it is fully automatic so you don't have to wait long  at all for your FROSTY TREATS!
Well now that you have all the COOL and DELIGHTFUL accessories for your first ice cream party of the summer, here are some SWEET and DELICIOUS ice cream recipes that will please the crowd and have them coming back for seconds and thirds, so be sure to make enough!
Enjoy your party!
Ben & Jerry's Raspberry Ice Cream
Yields One Quart
Ingredients
1 pint fresh raspberries
1½ cups sugar
Juice of ½ lemon
2 large eggs
2 cups heavy or whipping cream
1 cup milk
Preparation
Toss the raspberries, ¾ cup of the sugar, and the lemon juice together in a bowl. Cover and refrigerate for 2 hours, stirring every 30 minutes.
Whisk the eggs in a mixing bowl until light and fluffy, 1 to 2 minutes. Whisk in the remaining ¾ cup sugar, a little at a time, then continue whisking until completely blended, about 1 minute more. Pour in the heavy cream and milk and whisk to blend.
Drain the juice from the raspberries into the cream mixture and blend. Mash the raspberries until pureed and stir them into the cream mixture.
Transfer the mixture to an ice cream maker and freeze following the manufacturer's instructions.
Recipe from the Ben and Jerry Ice Cream Book  
Coconut Rum Ice Cream
Yields One Quart
Ingredients
½ cup heavy cream
1 ½ cups unsweetened coconut milk
1 cup whole milk
½ cup Malibu rum, or other coconut flavored rum
½ cup granulated sugar
½ cup grated unsweetened coconut
Pinch salt
6 large egg yolks
Preparation
To make the ice cream, in a large, heavy saucepan, combine the cream, coconut milk, whole milk, salt and rum. Bring to a simmer over medium heat. Remove from the heat.
In a medium bowl, beat the eggs and sugar until pale yellow. Add about 1/2 cup of the hot cream mixture, and whisk to combine. Add the egg mixture to the saucepan with the remaining hot cream and whisk. Return to medium heat and cook, stirring constantly with a heavy wooden spoon until thick enough to coat the back of a spoon, 4 to 5 minutes. Remove from the heat and strain through a fine mesh strainer into a clean container. Stir in the coconut and refrigerate until well chilled, at least 3 hours. Pour into an ice cream maker and process according to the manufacturer's instructions. Transfer to a plastic container and freeze until ready to serve.
Recipe Source: Kimberley Davis, Sur La Table Corporate Chef