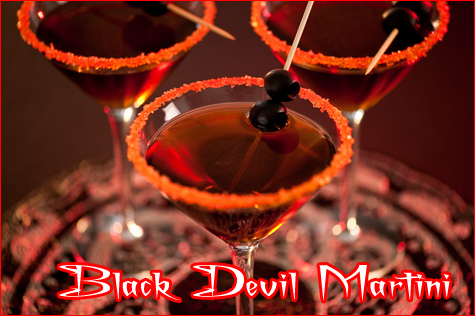 So this year at your Halloween party spook and scare your guest with some creepy, but delicious cocktails.  These haunting drinks will be great additions to the spooky night of fun and are sure to be a hit with your guest. TheBlack Devil Martini (above) is a martini of a different color, dark rum and a black olive garnish give this drink its midnight hue. Rim the glass with coarse orange sugar to dress it up for a Halloween party. For more great Halloween cocktails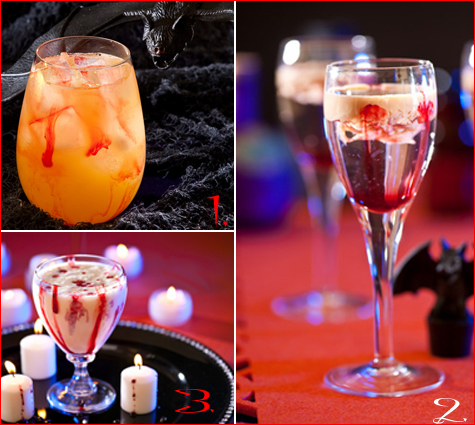 The Blood Sucker Cocktail (number 1) is less shocking than the other cocktails in this group but is vampire favorite. To entice the vampire with gory blood use either  strawberry or raspberry puree to add streams of "blood" down the sides of the glass. All the vampires will enjoy sinking their teeth in this one.
Cocktail number 2 The Brain Cocktail looks more spooky that tasty, however it is a fruity cocktail with a blood-curdling presentation. The drink is  made with peach schnapps and Irish cream and for some extra gore, top with a dash of blood-red grenadine.
Believe it or not the Vampire Cocktail (number 3) is a dessert-worthy combination of vanilla ice cream, triple sec and white crème de cacao and is deliciously disgusting, thanks to drizzles of blood-red grenadine down the sides of the glass.
So there you have it some gore yet tasty cocktails that will help you create a creepy spooky atmosphere at your Halloween party, have fun serving up these these up!
Enjoy and celebrate life in style…
Here are the recipes:
Black Devil Martini
Ingredients:
2 oz. dark rum
1/2 oz. dry vermouth
Black olive
Preparation:
Stir and strain into chilled martini glass, garnish with olive.
Blood Sucker Cocktail
Ingredients:
1 1/2 oz. Bacardi "0"
1/2 oz. cointreau
2 oz. pineapple juice
1 Tbs. strawberry or raspberry puree
Preparation:
In a shaker with ice pour rum, cointreau and juice. Shake and pour into a rocks glass. Dip the end of a drinking straw into the puree, hold the tip of your finger over the other end and use the straw to squirt puree into the bottom half-inch of the drink, where it will sink in red blobs. Do not stir.
The Brain
Ingredients:
1-1/2 oz. peach schnapps
1-1/2 oz. Baileys Irish cream
Dash of grenadine
Preparation:
Pour peach schnapps into a glass. Slowly add the Baileys Irish cream. Top with a dash of grenadine.
Vampire Cocktail
Ingredients:
1 scoop vanilla ice cream
1 oz. triple sec
1/2 oz. white creme de cacao
Drizzle of grenadine
Preparation:
Blend all ingredients except grenadine until smooth, pour into a stemmed cocktail glass. Drizzle grenadine over top.
Source:  Fine Living
Save