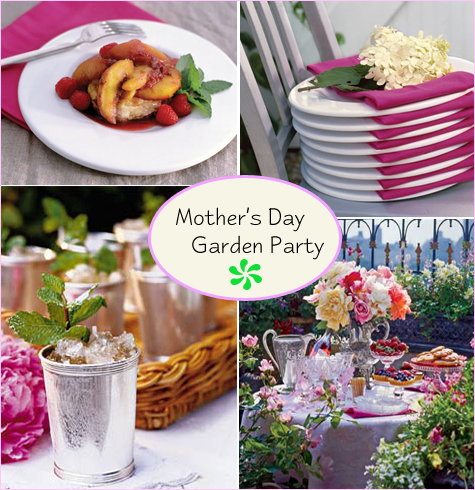 Celebrate Mother's Day this year by getting everyone together for a garden party! Your mother would very much appreciate and love it if threw a garden party in her honor. Think about it what could be better than enjoying the day outside surround by friends and family along with beautiful flowers, and delicious food.
Not sure where to start, no problem we have put together the perfect party plan that will make all your planning seamless and easy, here's how:
Setting the Scene
Create an inviting and relaxing vibe by utilizing your entire backyard, not just the deck and patio area, this will give your guest an opportunity to walk around and mingle.
Set up your seating in groups that will make it easy conversation. Also use patio umbrellas to add an extra layer of shade out of the sun and if the party will go into the twilight hours have torches, string lights and candles ready to use when the sun goes down.
Don't worry if you don't have the perfect blooms in your backyard, you can still host a stylish garden party by adding floral arrangements to your backyard. Buy some flowering annuals and simply slide the plastic pot inside larger prettier pots. For a chic look choose plants that are of one or two colors,  for example try blues and greens with orange accents or red and whites.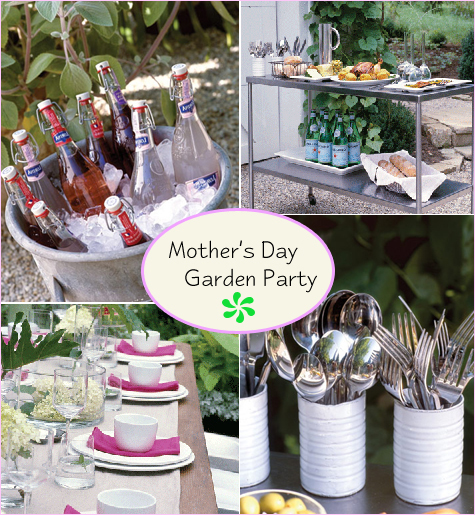 Table Setting
Set up your buffet table outside if you have the space, if not setting it up indoors is perfectly fine. This way your guest can serve themselves. If you're setting up the buffet outside be sure to keep food covered to protect it from flies and other pesky insects. Lighting candles will also help, just make sure to place the candles in the center to avoid burning your guest.
Remember traffic flow is very important when setting up the buffet table. At one end place the plates, cold items next, and then hot items, finishing up with napkins and cutlery. You can bundle flatware inside the napkins and tie with a ribbon or place the cutlery in cute glass jars or vintage tin cans.
Decorate your table tops with beautiful bouquets of flowers from your garden or purchase flowers the day of the party and group them in pretty glass vases or jars. For a beautiful look arrange the table with different layers. This look is easy to achieve, just use tiered cake stands, or you can even use overturned bowls to prop up some of your dishes.
Set up a full bar outside near your garden entrance, so guest can serve themselves. Use a portable bar cart, or side table and include glassware, bottle openers, bar tools, liquor, ice bucket and drink garnishes. Use galvanized tubs filled with ice to keep mixers, beer and wine cool. Keep a pitcher of your favorite cocktail ready and labeled so guests will know what they're drinking.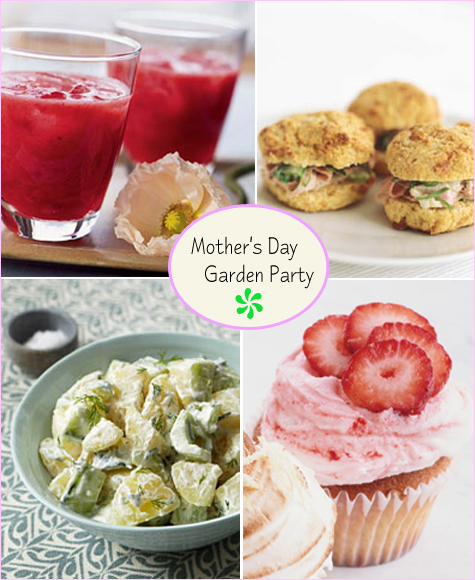 The Food
Here's a great menu that you can prepare ahead of time, we've keep the menu simple to keep you out of the kitchen and not tied to the barbecue or stove, this way you will be able to enjoy the party and visit with your guest!
Baby Artichokes with Creamy Horseradish-Dill Dip
Cheddar-Polenta Biscuits with Ham Salad
Chicken in Tarragon-Mustard Cream Sauce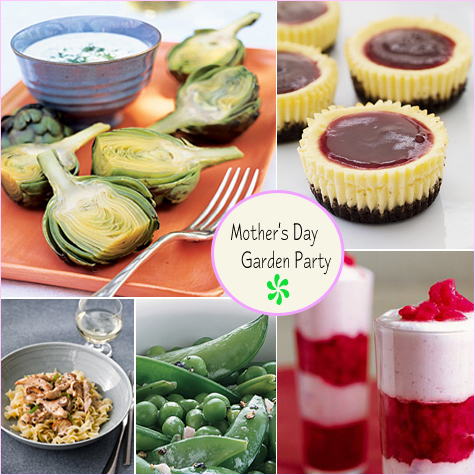 So there you go, your perfect party plan for a fabulous Mother's Day Garden Party. Happy planning,  enjoy the party and have a very happy Mother's Day!
celebrate life in style…
Source: Garden Party Pictures:  Country Living

Save