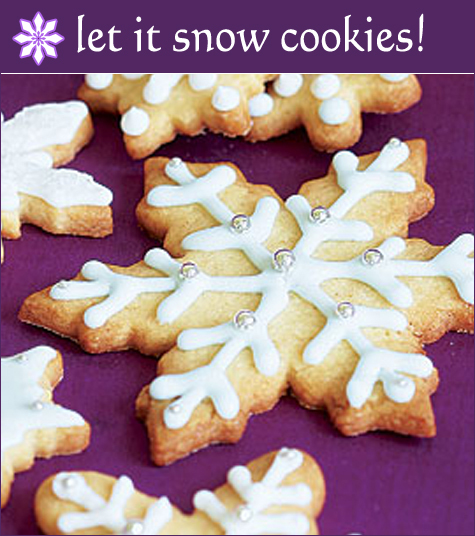 If you have been on the look out for the perfect cookie cutouts, look no more – you just found it! The Cardamom-Honey Cutouts are delicious cookies, that have a warm and toasty honey spice taste. The cardamom and honey are the perfect combination and is the ideal cookie for a holiday afternoon tea or handmade gift. I bet this recipe will become a permanent part of your  holiday cookie recipe box.
For the recipe
Servings: 6 dozen 2-1/2-inch round
Ingredients
13-1/2 oz. (3 cups) unbleached all-purpose flour; more for rolling
1 tsp. ground cardamom
1/2 tsp. table salt
1/4 tsp. baking soda
8 oz. (1 cup) unsalted butter, at room temperature
3/4 cup granulated sugar
1/4 cup honey
1 large egg
1 tsp. pure vanilla extract
Tip: For the best results, measure your flour by weight instead of volume. (1 cup of all-purpose flour equals 4-1/2 oz.) If you don't have a scale, be sure to use the proper technique when filling your measuring cups.
Preparation
In a medium mixing bowl, combine the flour, cardamom, salt, and baking soda. Whisk until well blended.
In the bowl of a stand mixer fitted with the paddle attachment (or in a large mixing bowl with a hand mixer), beat the butter and sugar on medium speed until well blended and slightly fluffy, about 3 minutes. Scrape down the bowl and the beater. Add the honey, egg, and vanilla. Continue mixing on medium speed until well blended, about 1 minute. Add the flour mixture and mix on low speed until the dough is well blended and comes together in moist clumps, 30 to 60 seconds.
Divide the dough roughly in half. On a piece of plastic wrap, shape each dough half into a smooth 5-inch disk. Wrap well in the plastic. Refrigerate until chilled and firm enough to roll out, 1 to 1-1/2 hours.
Bake the cookies:
Tip: If you cut the cookies into larger or smaller shapes, you'll need to adjust the baking time. Just be sure to bake until the edges turn light brown.
Position a rack in the center of the oven and heat the oven to 350ºF. Line two or more cookie sheets with parchment or nonstick baking liners. Working with one disk at a time, roll the dough on a floured work surface to about 3/16 inch thick. Dust with additional flour as needed. Choose one or more cookie cutters of any shape that are about 2-1/2 inches wide and cut out shapes. Arrange the cookies about 1 inch apart on the lined cookie sheets. Gather the scraps and gently press together. Re-roll and cut. Repeat with the remaining dough.
Bake one sheet at a time until the cookies' edges develop a 1/4-inch wide light-brown rim, 11 to 13 minutes (rotate the sheet halfway through baking for even browning). Let the cookies cool on the sheet for about 10 minutes and then transfer them to a rack to cool completely.
Royal Icing Recipe
Serving: 3 1/2 cups
Ingredients
3 ounces pasteurized egg whites
1 teaspoon vanilla extract
4 cups confectioners' sugar
Preparation
In large bowl of stand mixer combine the egg whites and vanilla and beat until frothy. Add confectioners' sugar gradually and mix on low speed until sugar is incorporated and mixture is shiny. Turn speed up to high and beat until mixture forms stiff, glossy peaks. This should take approximately 5 to 7 minutes. Add food coloring, if desired. For immediate use, transfer icing to pastry bag or heavy duty storage bag and pipe as desired. If using storage bag, clip corner. Store in airtight container in refrigerator for up to 3 days.
Enjoy!
celebrate life in style…
Save