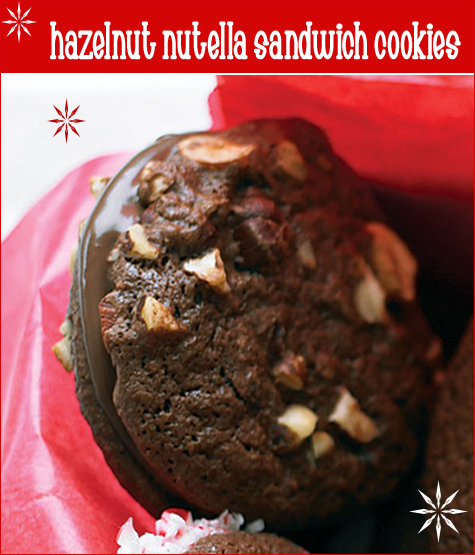 Once again OHP is counting down to the holidays with some delish holiday cookie recipes. We are so excited about our  holiday cookie countdown this year. We had so much fun last year bringing you ideas of yummy cookies to bake for the holiday season, there was no way were not going to have a cookie countdown for you this year.
So, to kick off our cookie countdown we have some rich and decadent Hazelnut Nutella Sandwich Cookies, do we need to say anymore?
For the recipe:
Serving: 20 Sandwich Cookies
Ingredients
10  ounce  bittersweet chocolate, chopped
2  ounces  unsweetened chocolate, chopped
1/4  cup  unsalted butter, cut into chunks
3  large eggs, at room temperature
1  cup  sugar
3/4  cup  flour
3/4  teaspoon  baking powder
1/4  teaspoon  kosher salt
1 cup chopped hazelnuts
1 1/4  cups  Nutella
Preparation
Put chocolates and butter in a medium metal bowl and set bowl over a pan filled with 1 in. of simmering water. Cook, stirring occasionally, until melted, then remove from heat and let cool slightly. Whisk in eggs and sugar, mixing until combined. Then whisk in flour, baking powder, and salt. Mix in hazelnuts. Chill dough, covered, until firm, about 2 hours.
Let dough sit at room temperature 15 minutes. Meanwhile, preheat oven to 350° and line 2 baking sheets with parchment paper. Scoop 1 tbsp. portions of dough, rolling each into a ball, and put onto sheets 1 in. apart. Using the palm of your hand, press balls into 1/4-in.-thick rounds. Bake cookies until they no longer look wet on top, about 8 minutes. Let cool on baking sheets.
Spread the flat side of 1 cookie with about 1 tbsp. Nutella and sandwich with another cookie. Repeat with remaining cookies.
Make ahead: Batter up to 1 day; baked cookies up to 2 days, airtight.
Enjoy!
celebrate life in style…
Save